Our Carrier Ethernet (CE) network is the first in Australia and New Zealand to be certified to the globally recognised Metro Ethernet Forum (MEF) 3.0 standards, and we continue to develop and innovate our service capabilities. By partnering with the nbn™, we can now offer access to our network to customers that are located within, and beyond our network.
As the first in Australia and New Zealand certified to the Metro Ethernet Forum (MEF) 3.0 CE standards, our independent and diverse 'fibre in the sky' Optical Ground Wire (OPGW) network benefits from being built atop TransGrid's transmission infrastructure, providing unique assurances on physical as well as cyber security.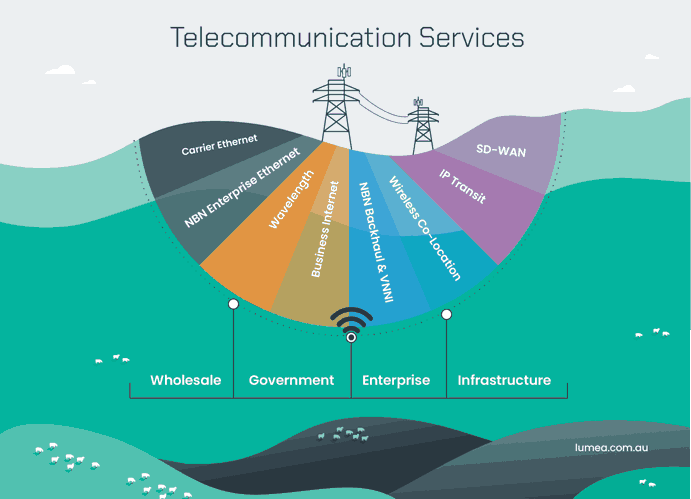 Our high-capacity and resilient fibre network delivers high speed services for our Enterprise, Wholesale & Government customers across the Australia's Eastern States.
Wavelength is a high capacity of 10Gbps, 100Gbps or higher*, point to point data carriage service by utilising the OPGW aerial fibre network and the latest Dense Wavelength Division Multiplexing (DWDM) technology.
A perfect solution for large bandwidth applications such as Data Centre Interconnect (DCI) and database replication to satisfy bandwidth demanding and dynamic business environment.
*Subject to availability at selected customer site
Click for more information about our Data Centre Interconnect
Carrier Ethernet is a scalable, reliable and feature-rich network solution for private network and public/private Clouds connectivity.
Our network offers extensive coverage in CBD, Metro and regional areas using a combination of aerial, underground fibre and third party access networks including nbn Enterprise Ethernet and other partners' access services. 
Flexible bandwidth increments ranging from 2Mbps to 4Gbps* and standardised service features give you and your customers the ability to carry different service attributes and Class of Service (CoS) using one technology to suit different application's needs.
*Subject to availability at selected customer site
Carrier Ethernet brochure
Want to know more? Download our service brochure to discover more about Lumea Carrier Ethernet.
business nbn™ Enterprise Ethernet
Accelerate yours & your customers' digital transformation with Lumea Carrier Ethernet powered by nbn™ Enterprise Ethernet, and POI backhaul connectivity from a market leader.
Lumea has partnered with the nbn™ to expand the service reach for our Ethernet services by bringing you the nbn enterprise-grade, symmetric layer 2 Ethernet connectivity from 10Mbps to 1Gbps.
Because of the ease of network compatibility in interconnecting Lumea CE and nbn™ Enterprise Ethernet networks, we are able to pass on the unique service features and benefits to you including multiple CoS (Classes of Service) and enhanced Service level (SLA) options available to match your business applications.
Click for more more information about Lumea business nbn™ Enterprise Ethernet
nbn™ POI Backhaul & V-NNI
Ramp up your nbn based offering with Lumea's POI Backhaul and V-NNI services.
Lumea's POI Backhaul and Virtual NNI (V-NNI) services are designed for Retail Service Providers (RSPs) already onboarded with nbn™. The POI Backhaul extends the customer's nbn™ Network Interface (NNI) from selected POIs in NSW/ACT/VIC to a nominated handoff location in either a selected metro datacentre or a regional datacentre to minimise network latency.  
Traffic can be delivered as an aggregated handoff via a single physical interface, or multiple discrete interfaces in a point-to-point configuration. With POI V-NNI, you have the ability to deploy backhaul capacity without incurring the cost of setting up a presence at each POI. 
Click for more more information about nbn™ POI Backhaul & V-NNI
Choose from two internet options, Lumea Business Internet and Lumea IP Transit, to meet customer needs and improve service reliability.
Whether it be a business grade internet service for enterprises, or Carrier IP Transit service designed specifically for Internet Service Providers or aggregators, our internet solutions use the latest technology on our Wavelength and Carrier Ethernet networks to ensure the connection is fast, scalable and reliable.
Our internet services are flexible to meet growing business' needs. With extensive peering and upstream international IP transit providers that maintain service performance, minimising network latency and improving the service reliability with DDoS protection is available as an optional service.
Want to know more? Download our service brochure to discover more about Lumea Internet.
A comprehensive range of Virtual Network Function (NFV) options are available to improve the network security and applications based traffic prioritisation
Our SD-WAN solution is an overlay Software Defined Wide Area Network service with centralized control functions that are designed to help optimise network topology and minimize or eliminate network points of failure and latency.
A variety of underlying transport services including MPLS VPN, mobile 4G LTE, broadband internet or any combination of these services may be supported resulting in an enhanced user experience and service reliability.
Network Operations Centre (NOC)
For our 24/7 support service desk, please call the NOC on 1800 370 733 or email us at NOC@lumea.com.au.
Want to know more? Download our service brochure to discover more about Lumea's data offerings.