Why LUMEA nbn™ Backhaul & V-NNI?
Speeds that grow with your RSP: 100M to 10G+ - discuss your speeds option with our BD Managers.



Direct Lumea Fibre connected POI locations: 27 locations and increasing, best performance for nbn™ Backhaul & V-NNI



LUMEA Carrier Ethernet complies to the MEF 3.0 standard interconnecting with NBN Co to ensure best performance
Best end-to-end Performance
LUMEA finds importance in maintaining Quality if experience (QoE) by preserving network Class of Service (CoS) end-to-end


The LUMEA Carrier Ethernet Network ensures maximised network availability utilising our OPGW aerial fibre & Carrier graded DWDM


LUMEA supports efficiency & cost effectiveness through unique regional local handoff - an option for the growing Retail Service Provider
How does nbn™ POI Backhaul & V-NNI work?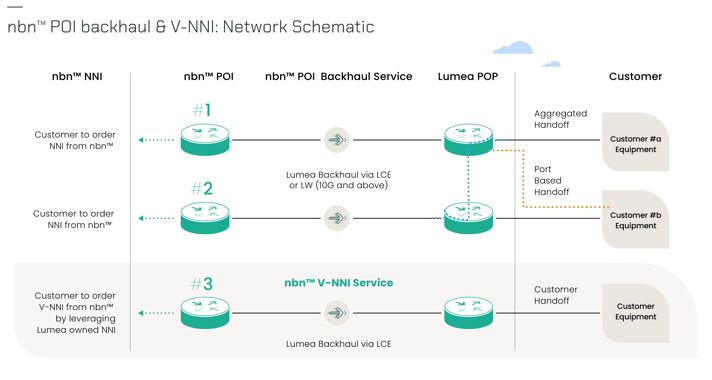 nbn™ POI locations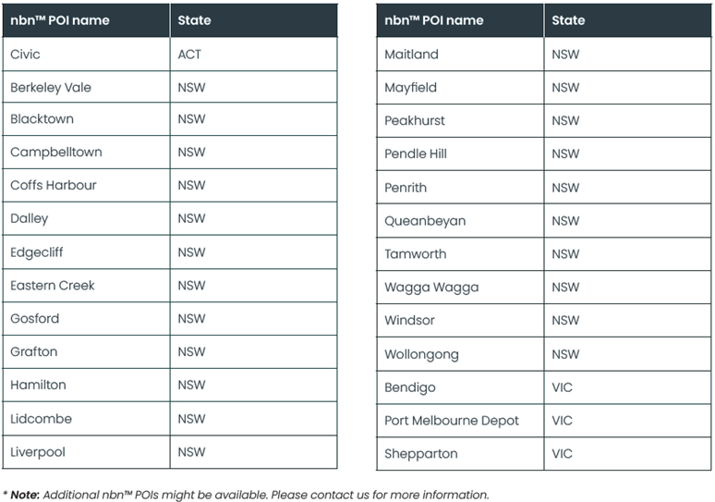 FAQs

Have a different enquiry? Please contact one of our experienced Lumea BD Managers.  
LUMEA Backhaul extends the customer's nbn™ Network Interface utilizing existing nbn™ Points of Interconnect (POIs) to a nominated LUMEA local handoff location via the LUMEA Wavelength or Lumea Carrier Ethernet. This allows for better control of traffic contention for your end users. 
It's important to our team that we supply our customers with the best cost effective options for their requirements. 
Lumea can deliver traffic as an aggregated hand off via single physical interface, or multiple discrete interfaces in a point-to-point configuration. With POI V-NNI, the customer has the ability to deploy backhaul capacity without incurring the cost of a setting up a physical presence at each POI. 
LUMEA currently services to selected Point of Interconnect locations across the following Australian states:
However, because of our physical network diversity, we are not restricted to just the zones in our listed POI locations. To learn more about other availability please contact our dedicated staff. 
Have questions? Get in touch with the data services team by calling 1800 533 825 or enquire through our website.