Why LUMEA business nbn™ Enterprise Ethernet?
Symmetric business nbn™ Enterprise Ethernet 10Mbps to 1Gbps - scalable options to future proof your business.


Direct LUMEA Fibre connected POI locations: 26 locations and increasing, the high performance alternative fibre path.


LUMEA Carrier Ethernet complies to the MEF 3.0 standard interconnecting with NBN Co to ensure best performance
Providing the best end-to-end user experience
LUMEA finds importance in maintaining Quality of Experience (QoE) by preserving network Class of Service (CoS) end-to-end.


Shorten Network Latency for the end-user. Unique Regional Local handoff for our business nbn™ Enterprise Ethernet services. 


Your business may be eligible for NBN Co's $0 Fibre Installation Contribution - available at 90% of nbn™ locations, conditions apply
Bridging the Digital Divide

Bridging the digital divide between metropolitan and regional areas is a key goal for Lumea's Telecommunications team. As a long-term investor in regional NSW, in partnership with business nbn™ Enterprise Ethernet, we are delighted to finally provide regional businesses access to high-speed fibre services at similar price points as major cities for the first time. We currently have 26 POIs and increasing with goals to expand these numbers further into regional areas. 
Want to check nbn™ availability for your regional business?
Please get in touch with our team who will provide you with our bespoke solutions. 
nbn™ POI locations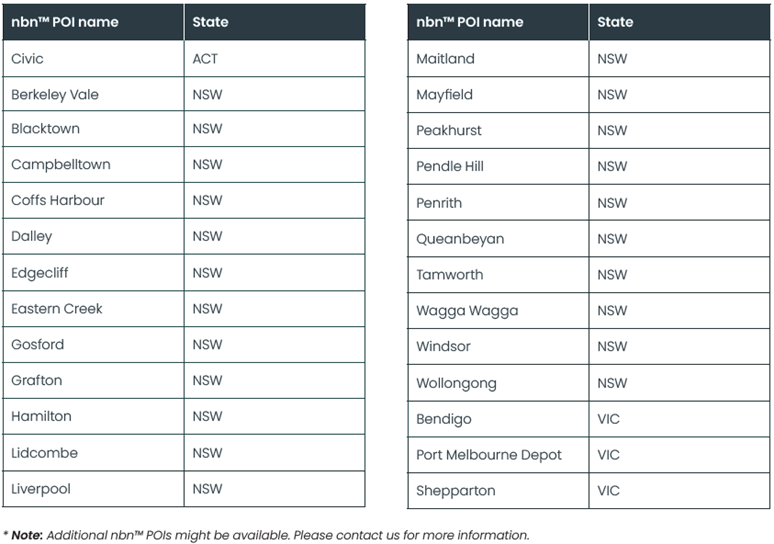 Have a different enquiry? Please contact one of our experienced Lumea BD Managers.  
LUMEA currently services to 26 Point of Interconnect locations across the following Australian states:
However, because of our physical network diversity, we are not restricted to just the zones in our POI locations listed. To learn more about other availability please contact our dedicated staff. 
Installation of most nbn™ services have a delivery commitment of 50 Business Days across 90 per cent of their fixed line network. However, dependent on the location and complexity of the connection or as identified by nbn™ your business may not be eligible for this specified time frame. 
With every connection our LUMEA team works directly with nbn™'s service delivery team to ensure every connection has the best support needed.
business nbn™ Enterprise Ethernet uses fibre installed at committed nbn™ sites to bring your business the best-grade availability and scalability. A dedicated $0 Fibre Build Contribution quote is applicable for 90 percent of business locations across their fixed line network. We aim to provide cost certainty with a guarantee of no variation to the quoted fibre contribution charge. Terms and conditions apply Business eligibility is will be determined by nbn™.
Contact a LUMEA BD manager today to accelerate your infrastructure assessment for eligibility.
LUMEA prides itself in our teams of critical thinkers who offer our customer bespoke solutions. Similarly we choose partnerships that can offer this same commitment. business nbn™ EE offers product flexibility giving you the power to choose network features and performance characteristics that best serve your requirements.
Additionally, business nbn™ Enterprise Ethernet offers flexibility to future proof your speed needs. From 10Mbps to close to 1000Mbps, the symmetrical wholesale EE bandwith is designed to move with the customer and their business growth. 
Proudly partnering with business nbn™

Ready to connect or want to know more? Contact us by making an enquiry here or call us on 1800 533 825.