In a world-first renewable energy capacity auction, four renewable energy companies will be selected to develop the infrastructure, which will total up to 1400 MW of generation to connect directly into the transmission network in North-West NSW.
The project is a $1bn infrastructure development investment by Lumea and renewable energy generators connecting to the transmission infrastructure. The project will seek to minimise costs to generators through providing fit-for-purpose infrastructure, essential asset and support policies, as well as grid stability.
This project received funding from ARENA for the initial market engagement phase as part of ARENA's Advancing Renewables Program.
Deliver significant capacity
1400 MW
of reliable renewable energy
Create construction jobs
2,000 jobs
Available to local communities
Provide permanent roles
150 ongoing
Roles in operation and management
The timeline of the NECCA project is indicated as below: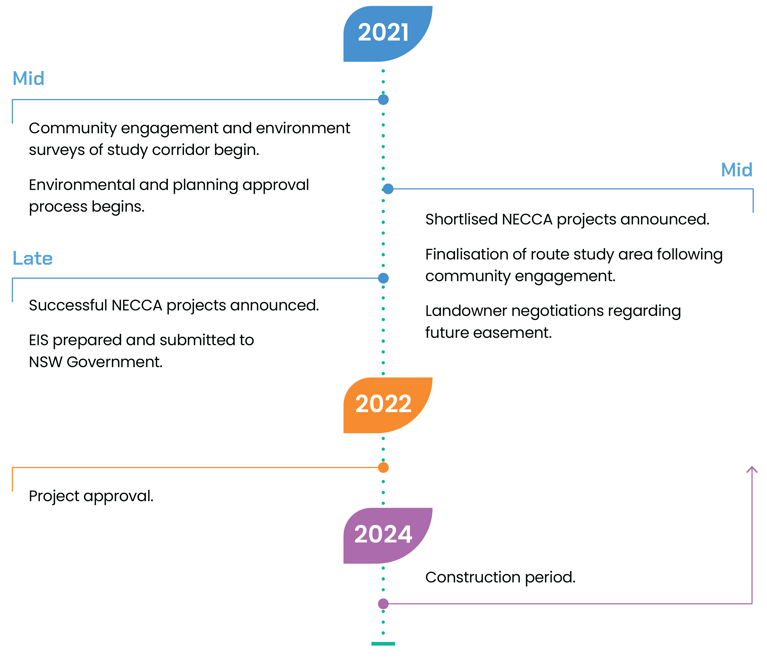 Community and stakeholders
Lumea has recently conducted a commercial process to seek interest from renewable energy companies to connect into the new transmission line.
We would like to advise that we have shortlisted four (4) renewable energy developers for the development phase and will enter detailed negotiations over the next 12 months. The shortlisted parties are all established project developers with a strong record in developing renewable energy projects and are currently developing renewable energy projects close to the proposed transmission infrastructure.  
Lumea will be engaging with local stakeholders near the proposed substation and transmission line in the coming months. We will contact you should we need to access or cross your property during the planning phases.
Why the project is needed
The Australian electricity system is in transition to renewable energy, including solar, wind and hydroelectricity.
The generation transition will require significant upgrades and expansion of the existing transmission network to enable more new generation to connect in locations where renewable energy resources are strongest, including the New England region.In addition, the expected closure of the Liddell Power Plant in 2023 is underpinning the need for new generation in NSW.
Government, regulators and private sector renewable energy companies are seeking innovative ways to deliver renewable energy to secure affordable and reliable electricity.
The development of the NECCA is the first step in private sector action to enable infrastructure for collaborative renewable energy development.